Theakston's coffee-infused Barista Stout turns a classic Tiramisu into a Beeramisu. With beer used in both the cream and the coffee layer, it provides the perfect mix of roasted coffee and sweet malt flavours, replacing marsala wine or other liqueur in a traditional recipe. We've also add some cacao into the liquid to give it extra depth.
Make this at least a few hours in advance or the day before – it keeps well for two days. It's a nice easy recipe, just watch out for the first stage (the 'beer custard') to avoid the mix splitting.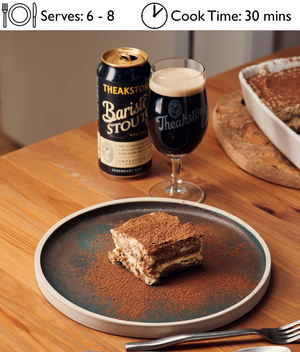 Ingredients
4 free range egg yolks
70g caster sugar
250g mascarpone cheese
400ml double cream
175g sponge fingers
180ml strong coffee
2 tbsp cacao or cocoa powder
1 tbsp vanilla extract
salt
180ml Barista Stout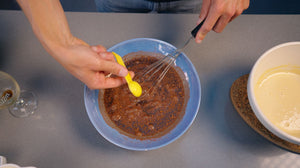 Steps 1-4
1. Half fill a saucepan with water and bring to the boil. In a small bowl, cream the egg yolks and 40g sugar then add 30ml Barista Stout and whisk for another minute.
2. Place the bowl over the pan and whisk until it's aerated and becomes like a thick beer custard (this could take 10 minutes). Remove from heat and allow to cool.
3. Combine 180ml strong coffee, 120ml Barista Stout, the remaining caster sugar, 1 tbsp of cocoa powder, the vanilla extract and a pinch of salt in a shallow bowl.
4. Mix the mascarpone and double cream in a bowl, whisk together until smooth and thick. Add the Barista mix and fold in, along with 30ml of Barista Stout.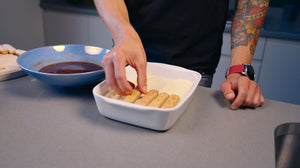 Steps 5-8
5. Dip each sponge finger in the Barista mix, holding for a second on each side, before putting into a deep dish (9inx9in). Repeat until you've covered a full layer, then spoon over a few additional tablespoons of the Barista mix to soak into the fingers.
6. Spoon half the cream over the sponge in a smooth layer. Repeat with another layer of sponge fingers, and top with the other half of the cream.
7. Dust cacao or cocoa powder on top, cover and place in the fridge until ready.
8. Pour the rest of the Barista Stout into a glass and enjoy!
Delicious with macerated strawberries and rasberries or chopped almonds, walnuts, peanuts and cashew nuts.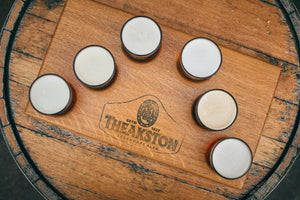 discover our beers
Learn more about the different beers we brew at Theakston and find a new favourite!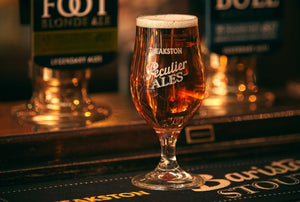 enjoy a pint
A selection of our customers' favourite pubs selling our beer