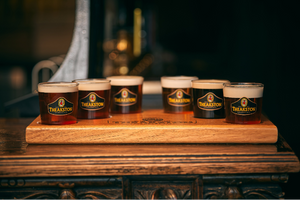 SERVE YOUR CUSTOMERS A LEGENDARY BEER!
Become A Stockist
We work with the majority of wholesalers across the North of England and many others further afield. Please contact your local wholesale supplier about stocking Theakston's. If you would like some help with this please get in touch via the form lower down this page.
We are able to support our permanent stockists with glassware and promotional materials.
Our beers also supplied by most of the UK's large pub companies. If you are a manager or tenant of a large pub group and are interested in serving Theakston's beers, please get in touch and we'd be happy to help!
Speak to our team about becoming a stockist