A continuing tradition
Theakston have employed coopers since the founding of the company in 1827 and today, Theakston Old Peculier in hand crafted oak casks is regularly ordered by licensees and made available to them across the north of the country. Theakston are very proud of their coopering tradition and to be able to continue the history of coopering, being one of the last remaining breweries in the UK to still have an in-house cooperage.
For many hundreds of years before metal casks were invented, wooden casks were the only means by which not just liquids but also foodstuffs were transported, not least within the brewing industry. But such has been the success of the introduction of the metal version that very few brewers today still retain a cooper. The reason for this is that to make an oak cask of precise content from non-standard widths of oak is a true craft which cannot be replicated by machine. The manufacture of metal casks contrastingly is an automated process.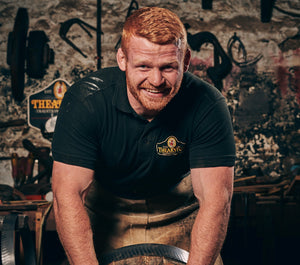 Meet the cooper
Our latest Cooper, Euan Findlay, came to the brewery as an apprentice craft cooper. After his careful and thorough apprenticeship which lasted four years, he became a fully qualified cooper.
This was marked by the 'Trussing In' Ceremony a very ancient, time honoured ritual that has largely unchanged for hundreds of years and traces its roots back to the 14th century. Euan was Trussed In by fellow Coopers who gathered from across the country, before completing his initiation into the Federation of Coopers.

The ceremony saw Euan inserted into a 54-gallon cask, also known as a Hogshead, and rolled around the brewery yard, before being unceremoniously sacked as an apprentice and immediately re-employed as a 'Journeyman Cooper'; an experience that coopers are grateful to suffer only once in their lifetime!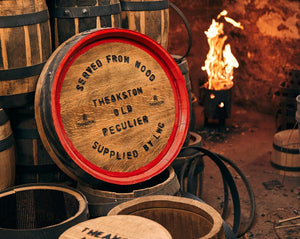 Theakston Cooperage
From our Brewery Visitor Centre you can see the Theakston Cooperage and possibly the Cooper at work!
Visit us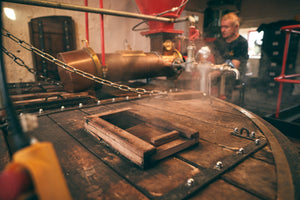 Discover the Theakston Brewing Process
Theakston are renowned as brewing innovators; brewing a wide range of small batch cask conditioned, premium keg draught ales, as well as bottled and canned beers for the UK domestic and many overseas markets.
Learn more