Classic recipes made legendary with theakston
Steak Pie made with our iconic Old Peculier beer is a British classic, however, we have partnered with beer and food writer, Mark Dredge, to create a new selection of recipes that showcase the versatility of Theakston ales as not just great tasting beers in their own right, but as fantastic ingredients in everything from homemade bread to the classic chilli.
We aim to show how cooking with beer can make a great meal into a legendary one!
Theakston Recipe Collection
See below our first four Theakston- inspried recipes. From Theakston 'Peculier' Chilli to Loaded Focaccia made with Theakston Pale!
Keep logging on to the Theakston website for new recipes over the coming weeks!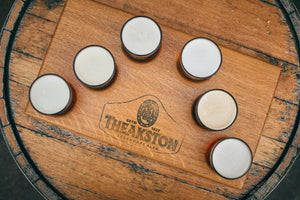 discover our beers
Learn more about the different beers we brew at Theakston and find a new favourite!