Theakston Best Cheesy Fish Pie
A twist on a classic fish pie, topped with a beer and cheese mash and taking inspiration from Welsh rarebit by using Theakston Best in the its rich sauce, as well as in the mash. As well as going in the dish itself, Best Bitter is great to drink alongside this fish pie, as the beer's crisp bitterness cuts cleanly through the richness in the pie.
For a vegetarian option, replace your fish with 500g of king oyster mushrooms, chop into scallop-shaped pieces and pan fry for a few minutes on each side. Also add 225g smoked tofu chopped into cubes. Use Henderson's Relish instead of Worcestershire sauce in the topping, and vegan dairy and cheese options, if preferred.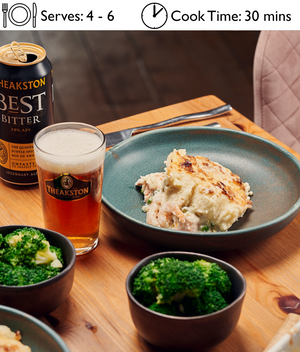 Ingredients
1kg chopped, peeled potatoes
120g grated mature cheddar
2 tbsp Worcestershire sauce
125g butter
1 leek, cleaned and sliced
1 bay leaf
50g plain flour
400ml whole milk
200g cream cheese
1 tbsp Dijon mustard
salt and white pepper
squeeze of fresh lemon
1 tbsp capers
600g mixed fish of your choice,
diced into chunks
200g prawns (shelled)
100g peas
200ml Theakston Best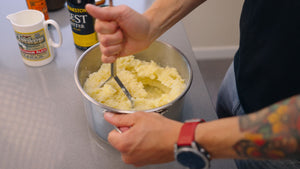 Steps 1-4
1. Preheat the oven to 200ºC and put the potatoes in boiling salted water and cook until soft, then drain.
2. Add back to the pan used for the potatoes and add 100ml of whole milk, 50ml Theakston Best Bitter, 60g cheddar cheese, 40g butter, 1 tablespoon of Worcestershire sauce, salt and pepper and mesh together thoroughly.
3. For the filling: Add the remaining 75g butter to a medium saucepan over a medium heat. Add the leek and a bay leaf and cook until the leeks soften (2-3 minutes) then add the flour and stir into a thick paste.
4. Gradually add the milk, bit by bit, stirring constantly so that the flour cooks and isn't lumpy. When all the milk is in, add the beer in the same way, and stir over a gentle simmer for 3-5 minutes as the sauce thickens.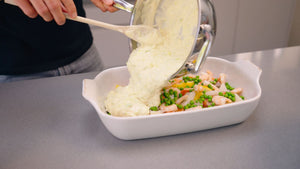 Steps 5-8
5. Remove from the heat and remove the bay leaf. Mix in the cream cheese and the mustard then add the lemon and capers, then season to taste.
6. In a large baking dish, evenly distribute the fish, prawns and peas. Pour the sauce over the top, then cover with the mash. Sprinkle over the rest of the cheese and the remaining Worcestershire sauce.
7. Bake for 30 minutes or until the cheese is golden and bubbling.
8. Remove from the oven and leave to rest for 10 minutes before serving. Pour the remaining Theakston Best into a glass and enjoy.
Serve with steamed broccoli, garden peas or seasonal vegetables.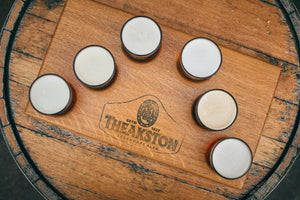 discover our beers
Learn more about the different beers we brew at Theakston and find a new favourite!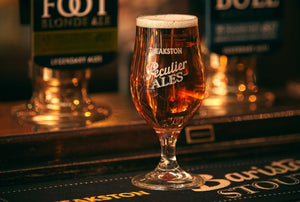 enjoy a pint
A selection of our customers' favourite pubs selling our beer