Theakston Barista Stout
Specialist Coffee Flavoured Stout
Our cold filtration process enables us to brew specialist craft keg beers of outstanding flavour and character. No better example is our Barista Stout which we have developed to highlight the harmonious flavour of coffee blended with malted barley. We cold filter our beers rather than pasteurise in order to protect the truly unique flavour. This enables the promotion of mouth-watering coffee aroma and flavour on a bed of rich full-bodied malt with hints of dark berry fruit hop in our incredibly popular Barista Stout.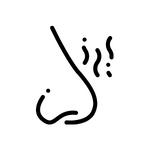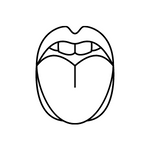 Taste
Coffee, vanilla and hints of dark berry fruit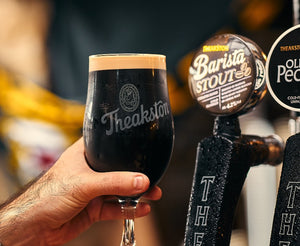 Tasting Notes
The ultimate velvety, nitrogen infused, coffee-flavoured stout. A delicious brew with caramel and vanilla flavours, hints of dark berry fruits and a bold freshly roasted espresso aroma! Unpasteurised and cold filtered to protect the truly unique flavour.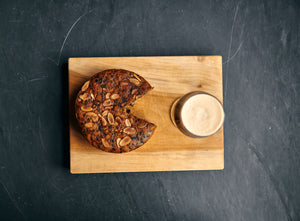 Food Pairing
- Hot Chocolate Fudge Cake
- Dark Berry Pavlova
- Mild Blue Cheese​
- Crème Caramel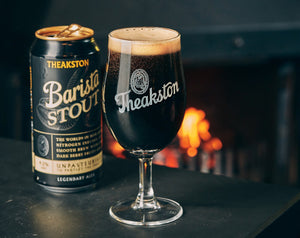 ALLERGENS/NUTRITIONAL INFORMATION
Allergens: Gluten (wheat and barley)​
Energy: 175kJ | 42kcal
Fat (of which saturates): 0g | 0g
Carbohydrates (of which sugars): 4.6g | 0g
Protein: 0.3g
Salt: 0g
*per 100ml