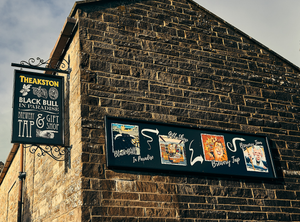 Theakston Black Bull In Paradise Visitor Centre
'The Black Bull in Paradise' is our Visitor Centre, a building situated within the brewery surrounds.  Its name is derived from elements of our company history, linking the name of the inn, the Black Bull in which Robert Theakston founded his brewery in 1827 with Paradise Field, the land he bought a few years later in 1850 and upon which he built a 'new' brewery in 1870, the one we still use to this day.
For many years the building served as the home to our dray horses and dray and was also used as 'warehouse' to hold barrels and crates of ale. In an upstairs part of the building once upon a time lived our draymen!
Today the Black Bull in Paradise is at the core of our activity. Open all year round, it is used as our company reception, the place in which new beers are trialled and tested and where the many thousands of annual visitors can come and soak up the historic atmosphere whilst sampling any of at least six different beers that are on sale all year round. We have a brewery gift shop stocked with a wide range of high quality branded goods, providing an ideal opportunity to buy gifts and souvenirs.
We have many interesting artefacts and items relating to nearly two hundred years of Theakston brewing tradition on display. We also have a roaring fire burning on all but the hottest days of the year to welcome you. Outside is a small beer 'garden' where it is possible to watch the everyday activity of a busy brewery yard and the perfect place for a pint after a trip round the brewery.
The Black Bull In Paradise opening times
Monday – 12:00 – 4:30
Tuesday – 12:00 – 4:30
Wednesday – 12:00 – 4:30
Thursday – 12:00 – 4:30
Friday – 12:00 – 4:30
Saturday – 10:30 – 4:30
Last orders at 4:00 every day.
what's available on the bar
The Black Bull in Paradise has three keg beers and five permanent cask beers along with one seasonal cask beer.
Where to find us
T&R Theakston Ltd
The Brewery
Masham
North Yorkshire
HG4 4YD
Park on Market Square. Approx 2 mins walk away.
For Sat Nav use postcode HG4 4HH