The fruity bitterness of Theakston Pale gives a gorgeous citrussy flavour to this fantastic focaccia. This recipe is great because you don't have to knead the dough and it's completely customisable – have it plain, load it with your favourite toppings (like we've done) or even treat this as a chunky pizza base and top with marinara sauce and whatever toppings you like - just use a larger, wider pan if following that option. The recipe here is vegan and has garlic potatoes, olives and sundried tomatoes on top, but it's also great with cheese (try cubes of cheddar or feta) or any other toppings. Or with a larger tray and different toppings can serve to make an excellent pizza base!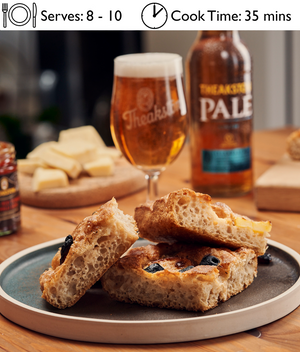 Ingredients
525g bread flour
250ml lukewarm water
250ml Theakston Pale Ale (at room temperature)
2 teaspoon active dried yeast
1 teaspoon sugar
1 tablespoons salt
½ teaspoon garlic powder (optional)
½ teaspoon onion powder (optional)
6 tablespoons extra virgin olive oil
Salt and pepper
300g new potatoes, boiled
2 cloves garlic, crushed
Pitted olives
Sun-dried tomatoes
Salt and pepper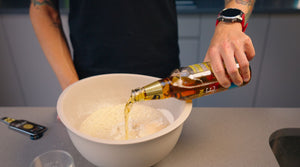 STEPs 1-4
1. Combine the lukewarm water, yeast and sugar, stir until it looks like it's bubbling or foaming.
2. Next sieve the flour into a large mixing bowl and add the salt, garlic powder and onion powder.
3. Stir the yeast into the flour and add the Theakston Pale, combining into a loose dough. In another large bowl add 2 tbsp of extra virgin olive oil and transfer the dough.
4. Cover the bowl with cling film and either refrigerate for 8-24 hours or leave in a warm place for 3-4 hours. The dough should double in size.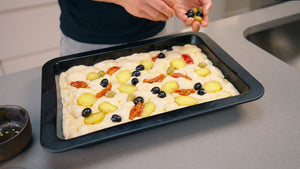 STEPS 5-8
5. Next, add 3 tbsp of extra virgin olive oil to the bottom and sides of a baking tray (approx. 12in x 9in). Knock the dough back with a spatula, to loosen up, before tipping it into the baking tray and leaving somewhere warm for 1-4 hours.
6. Pre-heat the oven to 240°C. Boil the new potatoes until cooked, drain, and slice. When cool, mix with 1 tbsp of oil from the sun-dried tomatoes, 2 cloves of crushed garlic, salt and pepper.
7. Pour 1 tbsp of olive oil over the dough, then push the dough out evenly across the tray. Add your toppings (potatoes, olives, tomatoes etc.) and bake for 25-40 minutes until golden brown.
8. Finally pour the rest of your Theakston Pale into a glass and enjoy!
Enjoy with caprese salad or Theakston Peculier Tomato and Chilli Jam with olive oil and balsamic vinegar for dipping.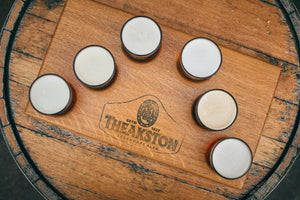 discover our beers
Learn more about the different beers we brew at Theakston and find a new favourite!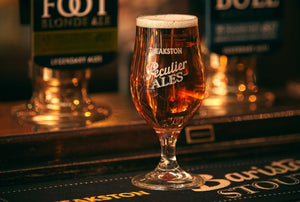 enjoy a pint
A selection of our customers' favourite pubs selling our beer