Theakston Old Peculier Chilli
A whole bottle of rich Old Peculier gives this chilli a wonderful depth of flavour. Adding some cacao and spices to enhance the beer's own flavours, this truly enriches the full-bodied flavour of Old Peculier.
Don't hurry the cooking here – two hours is needed to give it the most depth. The longer you cook the chilli for, the more the beer's bitterness is reduced and the malt richness increases. (this is especially true if you make it a day ahead and reheat).
To make this chilli vegetarian, follow the same recipe with veggie mince, or add in two tins of black or haricot beans, accompanied by a tablespoon of soy sauce or marmite for extra umami. Serve with whatever you usually eat with chilli – whether that's rice, jacket potatoes or something entirely different!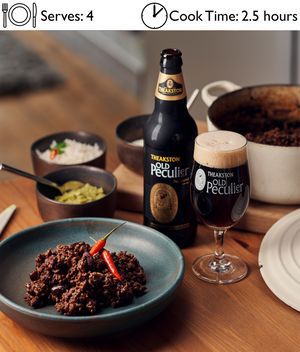 INGREDIENTS
600g beef mince (or alternative meat/veg option)
4 tbsp cooking oil or butter
1 large onion, diced
4 cloves of garlic, diced
2 fresh red chillis, finely sliced (or more/less, to taste)
1 red pepper, diced
4 tbsp tomato puree
2 tbsp dried chilli flakes (or more/less, to taste)
2 tsp smoked paprika
½ tsp ground cumin
½ tsp Chinese five spice (or ground cinnamon)
1 tbsp brown sugar
1 tbsp cacao powder
1 bottle of Theakston Old Peculier
1 can of kidney or black beans, drained salt and pepper to taste
salt and pepper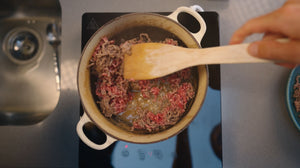 Steps 1-4
 1. Over a medium heat, put 2 tbsp oil/butter in a large saucepan and brown the mince for 5-8 minutes (you might need to do this in two batches), then remove from the pan and set aside.
2. Turn the pan temperature down to low and add the remaining oil/butter to the pan along with the onion, cooking for 5-10 minutes until translucent and soft.
3. Add the garlic and fresh chilli, cook for a minute, then add the pepper and cook for a further minute, stirring regularly.
4. Add the tomato puree and stir well, cooking for 1-2 minutes, then add all the spices and flavours, apart from the cacao powder, and stir everything together.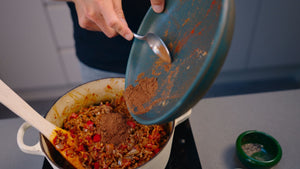 STEPS 5-8
5. Return the mince to the pan, stir to combine, add the cacao powder and the whole bottle of Old Peculier.
6. Set to a gentle simmer and place the lid on the pan. Simmer for 2 hours, stirring occasionally. If it simmers too dry, add some water or stock, or if it's too wet then remove the lid for the final 15 minutes.
7. After 2 hours, add the beans and cook for a couple of minutes, until they're warmed through and then season to taste.
8. Serve straight away or allow to cool and reheat later. Pour yourself another Old Peculier and enjoy!
Delicious topped with grated cheese or guacamole. Serve with boiled rice, tortilla chips or sweet potato fries. Or something of your choice!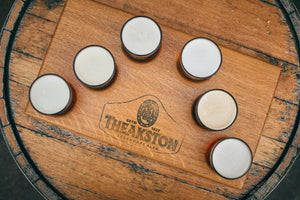 discover our beers
Learn more about the different beers we brew at Theakston and find a new favourite!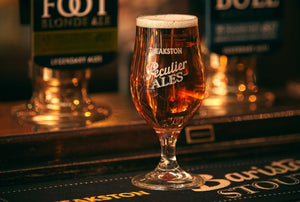 enjoy a pint
A selection of our customers' favourite pubs selling our beer