Theakston Royal Salute
The Legend!
Old Peculier is possibly one of the country's most well-known and loved ales. This unique, beautiful brew is often imitated but never matched and is sold literally all over the world. With countless awards to its credit, it is something of which every Briton can be very proud and is the epitome of the greatest of British brewing tradition. The name pays tribute to the unique ecclesiastical status of Masham as a 'Court of the Peculier' and is also a reference to the strong characteristic of the beer! For many years it was affectionately referred to as Yorkshire's 'Lunatic's Broth'.
Old Peculier is a beautiful, yet very simple beer, brewed using a very generous blend of finest pale, crystal, and roasted barley with two bitter hops combined with the majestic and noble Fuggle' hop to produce a beer of awesome full-bodied flavour with subtle cherry and rich fruit overtones.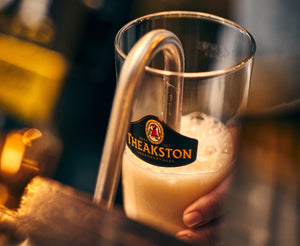 Tasting Notes
Brewed with only the finest malted barley, Challenger, Target and the majestic Fuggle hops. Fermented with the famous Theakston twin strain yeast to create its extra strength and complex character. The legendary Theakston Old Peculier is a deep, dark, ruby coloured ale with a rich, fruity flavour with hints of black cherry and banana.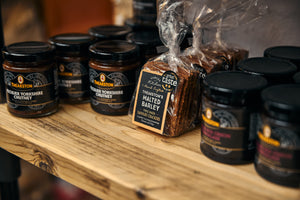 Food Pairing
- Casseroles and Stews
- Roast Beef & Yorkshire Pudding
- Chocolate Based Puddings
- Blue Cheese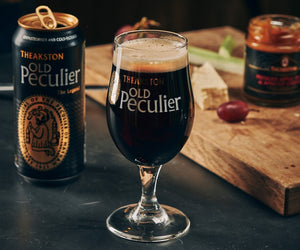 Allergens/Nutritional Information
Allergens: Gluten (wheat and barley)​
Energy: 177kJ | 48cal
Fat (of which saturates): 0g | 0g
Carbohydrates (of which sugars): 5.2g | 0g
Protein: 0.3g
Salt: 0g
*per 100ml